55

Modern Lesbos: Beyond Sappho's Island
by Kate Finster
Sappho's legacy has influenced such a wide variety of poets and artists across the globe. I was fascinated by the story of the Sisters of Bilitis and their conception of Sappho as a "mythic lesbian" rather than a "historic Lesbian." The island became a utopia, a place to imprint whatever fantasies one harbored about living on an island paradise in the Mediterranean, free from societal restraints and judgement. I became curious about the modern status of Lesbos—who were the current residents? Did they identify at all as part of the cultural conversation surrounding the word "Lesbians?" What demographic visited the island? I decided I wanted to look deeper into these questions and began to research. When I began, I thought that the island would simply be a tourist destination for both queer and heterosexual travelers alike, a place they could enjoy sunbathing and touring old ruins—innocuous, Greek-economy-boosting fun. But my first discovery was that in recent news, Lesbos has been embroiled in the migrant and refugee crises that have impacted so much of the European Union. Two geographical considerations ensure the island's involvement: its location only a few miles off the coast of Turkey, and its size, the third largest island out of 227 inhabited Greek islands.
Like many other Greek islands situated in the Mediterranean, the number of refugees living in camps and other temporary settlements has skyrocketed due to escalating violence in migrants' home countries, with many residents arriving from Afghanistan seeking asylum. The COVID-19 pandemic has also complicated the lives of migrants packed in tents and sharing bathing and toilet facilities. To make matters more dire, Lesbos' Moria Camp, the largest refugee camp in Europe, was engulfed in a fire in September 2020, leaving 13,000 displaced.
While Sappho's legacy lives on in art around the world, her home has gone through evolution after evolution, becoming a site of dispute and unrest as the pandemic continues to unfold and refugees continue to arrive. I wanted to focus on these current events as they highlight the true struggles of Lesbos that oppose the utopian paradise it is so often reduced to. At the bottom of this page are some links I suggest visiting if you are interested in the current situation of Lesbos. I have also included photographs I find particularly moving, as well as some maps of the island and the placement of the refugee settlements.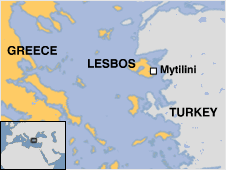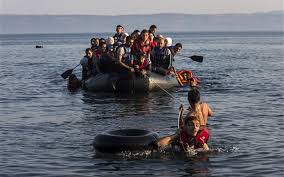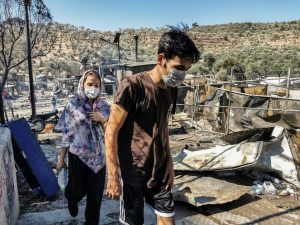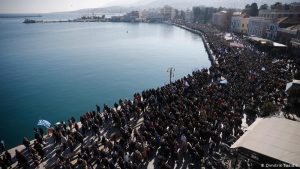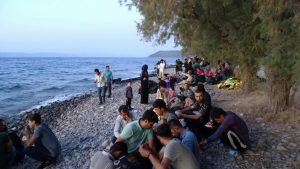 Sources:
https://www.pri.org/stories/2021-04-09/mental-health-crisis-lesbos-worsening
https://www.aljazeera.com/news/2020/2/15/aid-workers-face-growing-hostility-on-lesbos
https://www.pri.org/stories/2021-04-06/island-prison-migrants-say-plan-refugee-camp-lesbos-too-isolating
https://news.yahoo.com/many-refugees-fear-poor-living-155738093.html