Book Title:

Wading Through the Past

Subtitle: Infrastructure, Indigeneity & the Western Water Archives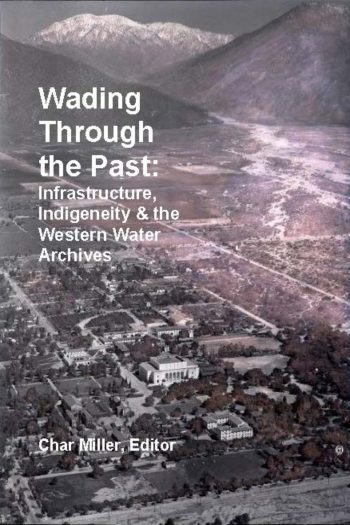 Book Description: Wading Through the Past is a collection of essays based on the 2021 Western Water Symposium, sponsored by The Claremont Colleges Library. An assortment of scholars, librarians, and advocates have virtually gathered to discuss the process of digitizing, making accessible, and using the Western Water Archives in the hope that we might better understand and improve our relationship to water.
License:
Creative Commons Attribution
Book Information
Book Description
In 2017, the Council on Library and Information Resources (CLIR) funded a three-year collaborative project to digitize and make available California water documents from seven participating institutions: the A.K. Smiley Public Library; the University Library at California State University, Northridge; the Water Resources Institute at California State University, San Bernardino; The Claremont Colleges Library; the National Archives at Riverside; the Ontario City Library; and the Upland Public Library. That project resulted in the Western Water Archives, an online repository of 19th and 20th century materials documenting the development, management, and exploitation of water in Southern California. The collections contain a rich assortment of blueprints, correspondence, ephemera, ledgers, legal papers, maps, pamphlets, photographs, plans, reports, scrapbooks, and technical documents.
In 2021 The Claremont Colleges Library hosted a virtual symposium to promote the Western Water Archives, featuring a range of librarians involved in the digitization process and scholars who have made use of the collections. This collection of essays is based on the symposium presentations.
Western Americana Manuscripts Librarian Lisa Crane outlines the logistics of a collaborative digitization project, from material selection and establishing metadata templates to hiring and training student workers. Drawing from these sources, politics professor Heather Williams provides an account of the rise and fall of the Bear Valley Irrigation Company, whose environmental miscalculations reflect contemporary water management decision making. Engineering professor Sami Maalouf considers the declining availability of water in Southern California and ways of improving sustainability. Teri Red Owl, Executive Director of the Owens Valley Indian Water Commission, provides a history of the Bishop Paiute Tribe and its irrigation methods in their Payahǖǖnadǖ homelands. Finally, data librarian Jeanine Finn and project manager Catalina Lopez discuss computational accessibility in the Bending Water Project, whose goal is to expand the reach and use of digitized California water documents.
Together, these essays reveal new ways of thinking about and improving water usage in Southern California.
License
Wading Through the Past Copyright © 2021 by The Claremont Colleges Library is licensed under a Creative Commons Attribution 4.0 International License, except where otherwise noted.
Subject
Environmental management